As you already know, there is a lot to tell you about Grideo. In this part of the tutorial, we will lead you through the main Templates tab which is a perfect option for users who don't want to design from scratch.
The Grideo app is well cared about by professional designers who constantly keep an eye on all important marketing opportunities and special events happening in the world. Based on these, they create unique content in the form of customizable templates available in all social media sizes, which can be personalized by a few taps and turned into your own creations thanks to easy-to-use in-app designing tools.
What can be found in the Templates tab
The Templates tab is made out of the two main sections:
Calendar

Templates

Calendar
1. Upcoming Events
Thanks to the Upcoming Events, you will stay informed about all the important events and their dates happening in 2022 arranged in chronological order. This fantastic feature will let you scroll through the events calendar in a few taps. Stay organized, and get ready ahead without missing any important day.
In Upcoming Events, you will always find the actual upcoming events, which change all year round as time goes by.
By tapping on the selected event, you will access a library containing a collection of event-tailored templates which can be freely customized based on your requirements and needs.
Examples of Upcoming events:
Valentine's Day

St. Patrick's Day

Spring

Arbor Day

Easter Week

Earth Day

May Day

Mother's Day

Mental health awareness

and many more…

2. Months
In the Months, as first in the order, you will find the name of the actual month with approaching events in chronological order and the events that already happened in that month. These are the hottest events that cannot be missed; therefore, they have the most visually attracting templates to catch your attention.
To see and access all the templates made for the selected event, tap on the See All on the right side.
Underneath, you will find the past months' names and the events that already happened during them. Each event contains a variety of templates. You can come back to these events and their templates anytime, which is an excellent opportunity to plan ahead for the following year.
To see and access all the templates made for the selected event, tap on the See All on the right side.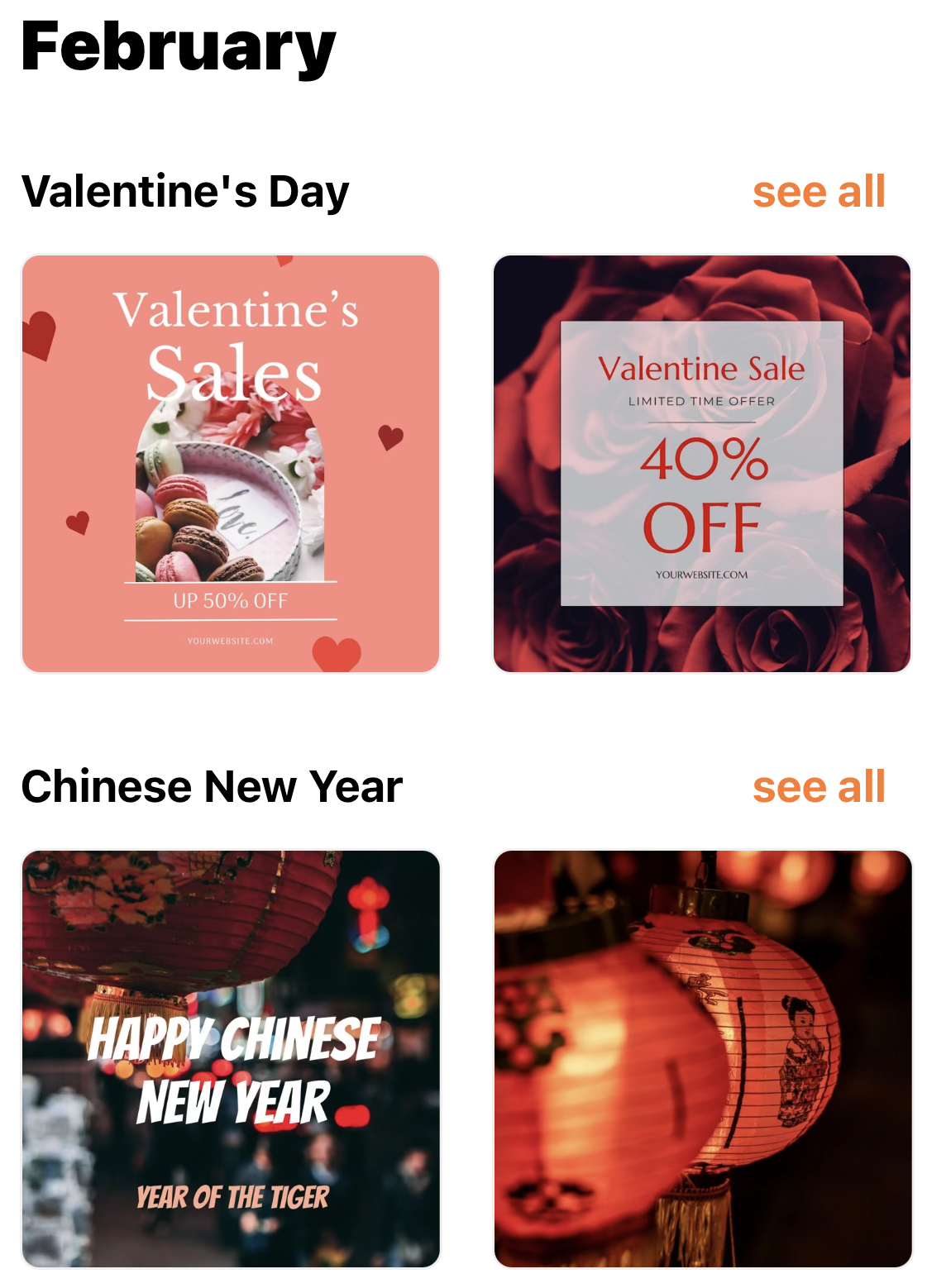 Templates
Another main section situated in the main Templates tab is Templates, accessible on the top left side just next to the section Calendar.
1. Marketing Templates
Marketing templates is a category made out of multiple different marketing subcategories which contain custom-made templates. Each subcategory has its own color and name, based on the main purpose of its templates. The subcategories are a handy feature when looking for specific marketing templates or content.
To see and access templates made for the chosen marketing subcategory, tap on the selected subcategory.
Examples of Marketing templates subcategories:
Brand building

Checklist

Coupons & promo codes

Customer reviews

Giveaways

Polls & questions

Sales & promotion

and many more…

2. Templates categories
Each template category is named based on its primary purpose and includes a collection of tailored templates.
To see and access all the templates made for the selected category, tap on the See All on the right side.
Examples of Templates categories:
Marketing templates

National & International Days

TOP Free selection

Special Events

Discover Your SELFie

Aesthetic wallpapers

Quotes

Travel & Nature

Food & Drink

Fashion

Happy Birthday

Season

and many more…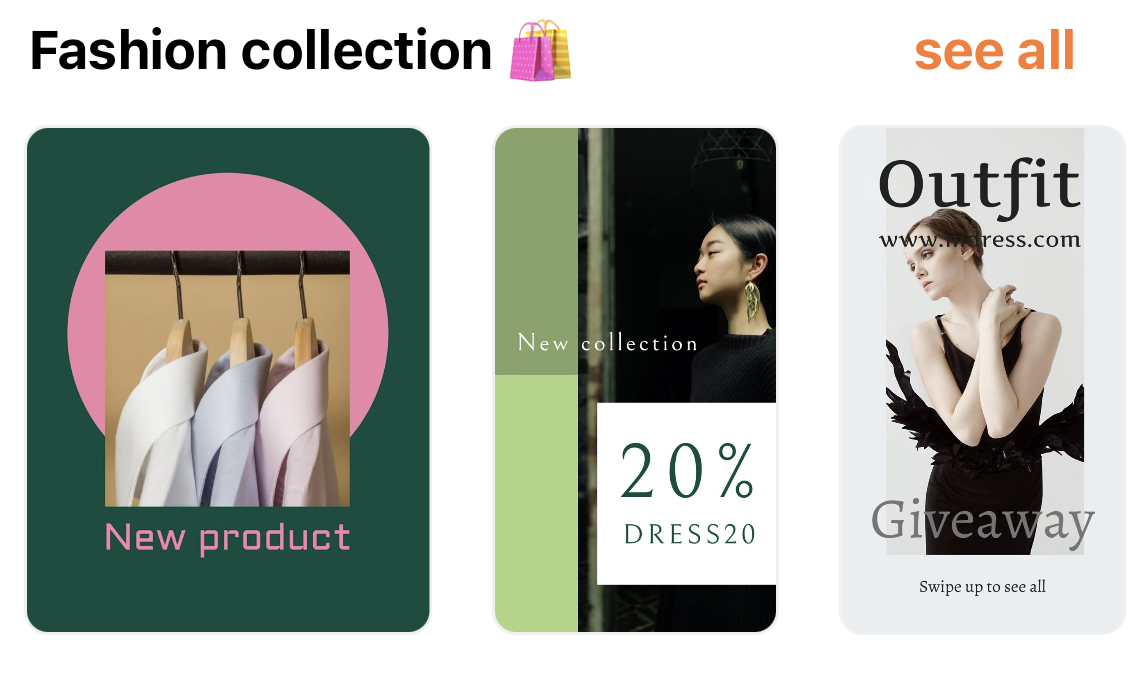 As you can see, Grideo is an unbelievably content-rich app for all kinds of events, occasions, seasons of the year, and many more. Keeping in mind that you can customize each template based on your taste, you can make a personalized masterpiece out of each template in a couple of minutes, even without being a professional graphic designer.
If you didn't find the information you are looking for or an answer to a question you have, do not hesitate to contact us right now. We will be pleased to assist you with any request.
Best,
App Toro Team